CSR (Corporate Social Responsibility)
GLOBAL CSR POLICY
Contributing to society through the manufacture of automobiles
"Toyota will respond to the needs of society and enrich people's lives through the manufacture of automobiles. And we will never lose sight of our gratitude toward our customers and other stakeholders. Based on that mindset, we will aim to contribute to the building of a new automobile society in the twenty-first century by gathering together the capabilities of our dealers, suppliers, and affiliated companies in a combined effort of the entire Toyota group."
Akio Toyoda, President of Toyota Motor Corporation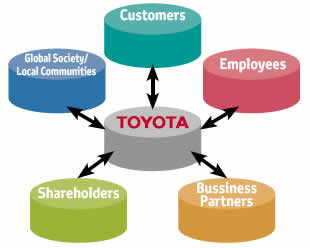 CSR POLICY
Contribution toward sustainable development to take into account subsequent environmental changes and heightened societal interest in CSR.
Toyota Motor Corporation has shared the statement with its consolidated subsidiaries and is taking other relevant action.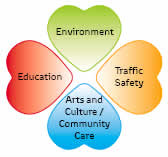 OUR CSR POLICY
We believe our business makes a positive contribution to society to develop economic growth & prosperity through our exportation and employment opportunities.
We are aware of the social, environmental and ethical impact of our work and the responsibility.
Recognising the educational and environmental problems, we established our CSR policy :
"to support education and environment for sustainable growth with society"